Tonny Zwollo was born on February 1, 1942, in Amsterdam, the Netherlands. Her great-grandfather, her grandfather, and her father were gifted gold- and silversmiths, who respectively became a foreman at a renowned silver factory, a manager at the same silver factory, and a teacher in metal working at the Amsterdam School of Arts and Crafts. Marinus Zwollo, Tonny's father, was a teacher to his family, too.
Tonny grew up in Randwijck, a garden-city-like new neighbourhood in Nieuwer-Amstel, a stone's throw from the Amsterdam Forest, and less than an hour from the centre of Amsterdam. In 1960, she began studying architecture at the University of Technology in Delft. From 1964 to 1968 she worked with the Mexican Government to help build schools in remote indigenous communities.
In September 1970 she received her engineering degree with a Prix d'Excellence Award. As her final project she designed an Indian marketplace. She received medals of honour from the Mexican Government and from the authorities in Otavalo, Ecuador, for the schools and markets that were built under her guidance.
In 1976 she worked with the architect Martín Ruiz Camino at the restoration of the sixteenth-century Santa Catalina Convent in Oaxaca City, Mexico, transforming the building into a modern hotel. This project received the European Prix d'Excellence Award from France.
In 1974, Tonny wrote her first book -Fantasy and Architecture-. In the 1990s she designed -Lost Paradise-, an exhibit about -Architecture and Ecology in the Oaxaca Valley-, which toured the Netherlands, Mexico, and the USA from 1993 to 1998. In 1996 the Governor of Oaxaca, Diódoro Carrasco Altamirano, appointed her as a 'Consultant for Special Projects'.
In her DVD -Blue is my colour- Tonny Zwollo introduces the term -female architecture- to refer to a way of designing that emphasizes the quality and function of the open or unbuilt space in architecture. The production is financially supported by the Netherlands Foundation for Visual Arts, Design and Architecture and the Netherlands Architecture Fund.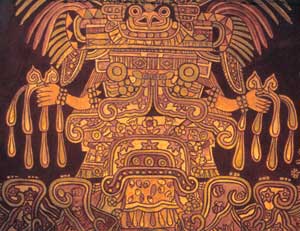 (photo: Detail, the Goddess, in the Tlalocan mural, Tepantitla, Teotihuacán)
In Teotihuacán, there is a mural painting of a terrestrial paradise presided by a benevolent mother figure. It is believed that this Goddess stood as a symbol for unity or integration of the community with the cosmos.